Dates: 
15th-17th January 2020
Venue: Tanya Pearson Academy, St Leonards, NSW
This very popular 3 day workshop is open to all students from Primary through to Grade 5 Levels (or RAD equivalent), offering classes in Classical Ballet, Contemporary, Jazz (Gr2-5), Ballet Repertoire, Lyrical (Primary/Grd1) and Dance Education. Students are not required to know the RAD syllabus.
Teachers: Jeremy Gates, Nardia Knapman, Felicity Hader, Lana Tramonte and Tatum Stanley.
TPA Junior Holiday School Jan 2020 _Web
Click on the above link for full schedule.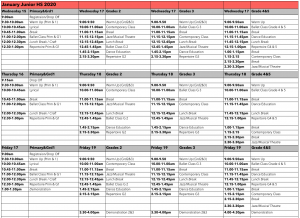 Prices: 
Primary – Grade 1: $264
Grade 2 – Grade 5: $420