Congratulations to our TPA Full Time students!
TPA is extremely proud of our graduates for continuing the TPA tradition of working with world class Ballet Schools and Companies.
We wish our graduates every success in their new endeavour.
read more
Congratulations to all the students who took part in all the Mid-year Assessments. It was particularly exciting to see the Pre-professional students dancing in the presence of David Hallberg, the Artistic Director of The Australian Ballet and Elizabeth Toohey, Ballet Mistress of The Australian Ballet.
read more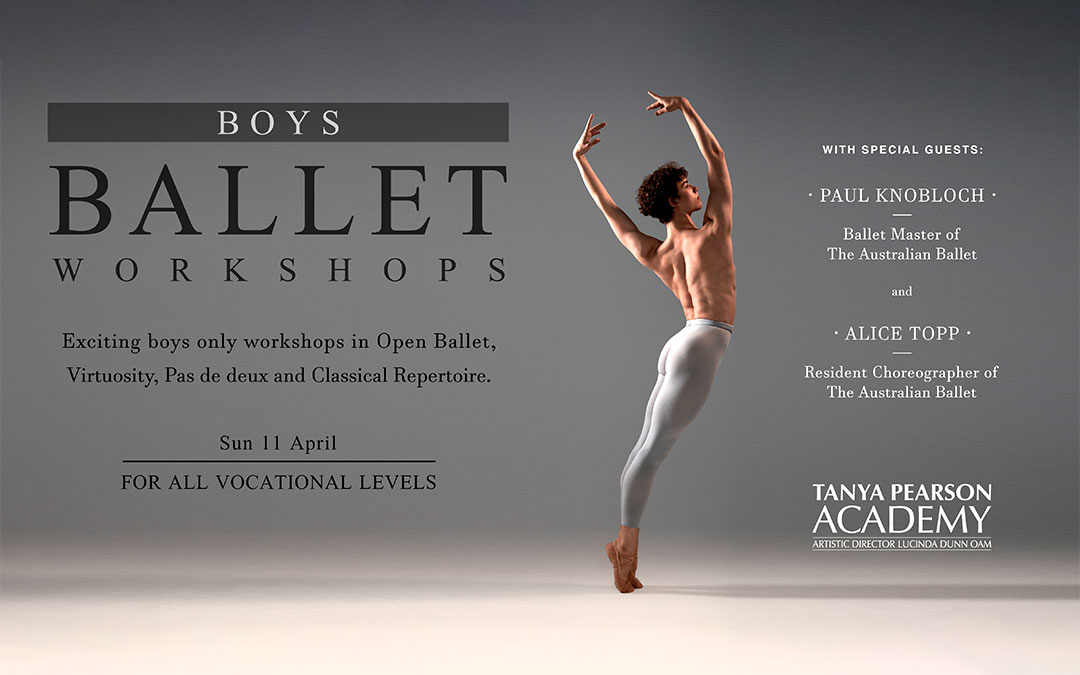 Bookings are now open for the popular Tanya Pearson Academy Boys Ballet Workshops!
read more
"The experiences that were given to us at TPA were second to none and I thank not only Mrs P but each teacher for their time and effort put into their students. While I was training full time at TPA, I was extremely lucky to be able to compete at the Prix De Lausanne in Switzerland, Youth America Grand Prix in NYC twice and Alana Haines in New Zealand. Being able to represent Tanya Pearson in those competitions were by far the most incredible and life changing experiences."
Emily Seymour – TPA Graduate, Prix de Lausanne & Youth America Grand Prix winner. Now Professional Dancer with Sydney Dance Company
"Through the guidance of the Tanya Pearson Academy, I feel that I have grown greatly, not only as a dancer but as a human being! The teachers will not form you to fit a mould but, with a strong foundation of classical technique, encourage and support the individuality in each student. After having travelled overseas taking classes with some of the worlds top schools, I would still say that the Tanya Pearson Academy is truely one of the best."
Grace Carroll – 16yrs, TPA Pre Professional Student
"I had such great training at TPA and I will never forget my years there. Its a great fun and supportive environment and I will cherish all the memories and all that I gained from the teachers."
Audrey Freeman – TPA Full Time Graduate. Now studying at The Royal Ballet School, UK
"I have been at Tanya Pearson for 12 months now and I travel up every week, on Fridays to attend the Junior Transition Program, Intermediate Foundation, PBT and Open class. I travel back to Berry every Saturday; it's a long trip but it's definitely worth it! At the end of last year my local teacher suggested I come to the Tanya Pearson Summer School and I loved it! I made new friends, learnt lots and really liked the teaching so I decided I wanted to keep coming. I also like watching the older girls and boys who are amazing and inspiring."
Ella Orme – 12yrs, TPA Junior Transition Program Student
"TPA has given me more than I could have ever wished for. They are so welcoming and warming, each student feels cared for and supported. At TPA I am mentored by industry greats, Ms Dunn, Mr Radojevic, Mr Broekx, Adam Blanch and many more. Each teacher shares different knowledge from different times, places and experiences. TPA is truly a professional dance institution that year after year produces some of the finest dancers from Australia who go onto to professional careers."
Lillian Easterbrook – 18yrs, 2019 TPA Pre Professional Graduate. Now studying at The John Cranko School, Stuttgart
"My biggest inspiration in ballet is Miss Lucinda Dunn because she had a long and amazing career in ballet and continues to share her love of ballet with her students. The lovely Miss Catherine Edwards also inspires me to work hard and become the best person and dancer I can be."
Lucelle Davis – 12yrs, TPA Part Time and Junior Transition Program Student
"I came to Tanya Pearson Academy because of their amazing reputation for the best classical training and also because of the amazing teachers like Ms Dunn, Ms Catherine, Ms Marie, Ms Lorena and Mr Adam Blanch. I used to travel a few times a week from Wollongong in order to attend classes at TPA. Recently my family relocated to Sydney so I could train more hours and now attend the Full Time Cygnet program."
Mia Atkinson – 13yrs, TPA Full Time Cygnet Program
"I moved from Chicago, USA to study at the renowned Tanya Pearson Academy in Sydney. Without a doubt, I have received excellent training and guidance from their exceptional teachers and physio staff. Tanya Pearson Academy has afforded me many wonderful opportunities and rewarding experiences including my acceptance into the prestigious Vaganova Academy in Russia"
Claire Zalunardo- 17yrs, TPA Pre Professional
"The best part about TPA are the wonderful friends I have made. The teachers are great and fun. I love how the teachers encourage me to do my best. My goal for this year in ballet is to do the splits – I can nearly do it."
Julian Wallace – 9yrs, TPA Part Time Program
"I am incredibly grateful for the world class faculty at Tanya Pearson Academy. I have improved so much in the time I have been training here and I benefit immensely from all the special opportunities we are given. When I was 13 I moved from Tasmania to Sydney so I could study at Tanya Pearson Academy and I have loved every minute so far!"
Dayla Bowman- 15yrs, TPA Full Time level 2
ABOUT TANYA PEARSON ACADEMY
Since 1971, The Tanya Pearson Academy has long been established as a premier ballet academy with an international reputation. The founder of the school, Tanya Pearson, was recognised by the Australian Government and awarded the Order of Australia Medal for her significant contribution to the Arts in Australia.
Continuing her legacy, her student Lucinda Dunn OAM, the longest serving Principal of The Australian Ballet, is now Artistic Director, and expanding the school's reputation and growth as an international institute of excellence.
TPA has expanded this year, with Creative Director Xanthe Geeves and Executive Director Gregor Thieler joining the creative and executive team alongside Artistic Director Lucinda Dunn OAM. Geeves and Thieler bring a wealth of international performance and business acumen to the Academy, which will complement the existing strengths of the faculty and management teams and position the Tanya Pearson Academy at the forefront of elite dance education worldwide.
LUCINDA DUNN OAM
Lucinda Dunn is Australia's longest-serving principal ballerina with the Australian Ballet serving 23 years with the company. In 2015 she was appointed Artistic Director with the Tanya Pearson Academy.
TYLA
STEINBACH
TPA Graduate
Tyla Steinbach is an Apprentice with the San Francisco Ballet Company for the 2019/2020 season.   
MISCHA
HALL
TPA Graduate
Mischa is currently a member of Theatre JKT Pilsen in the Czech Republic.
MARLEY
MOOSMAN
Part Time Student
I love ballet… Ballet has taught me everything – Life lessons, responsibility, discipline and respect … everything else, all the fun and friendship is a bonus.
ELLA
ORME
Full Time Level 2 Student
I started at TPA when I was 9 and in mid 2019 join the Full Time Cygnet Program. 
SIGN UP TO OUR NEWSLETTER
Stay up to date with the latest Tanya Pearson Academy, news, events and offers