JUNIOR, INTERMEDIATE & SENIOR TRANSITION PROGRAMS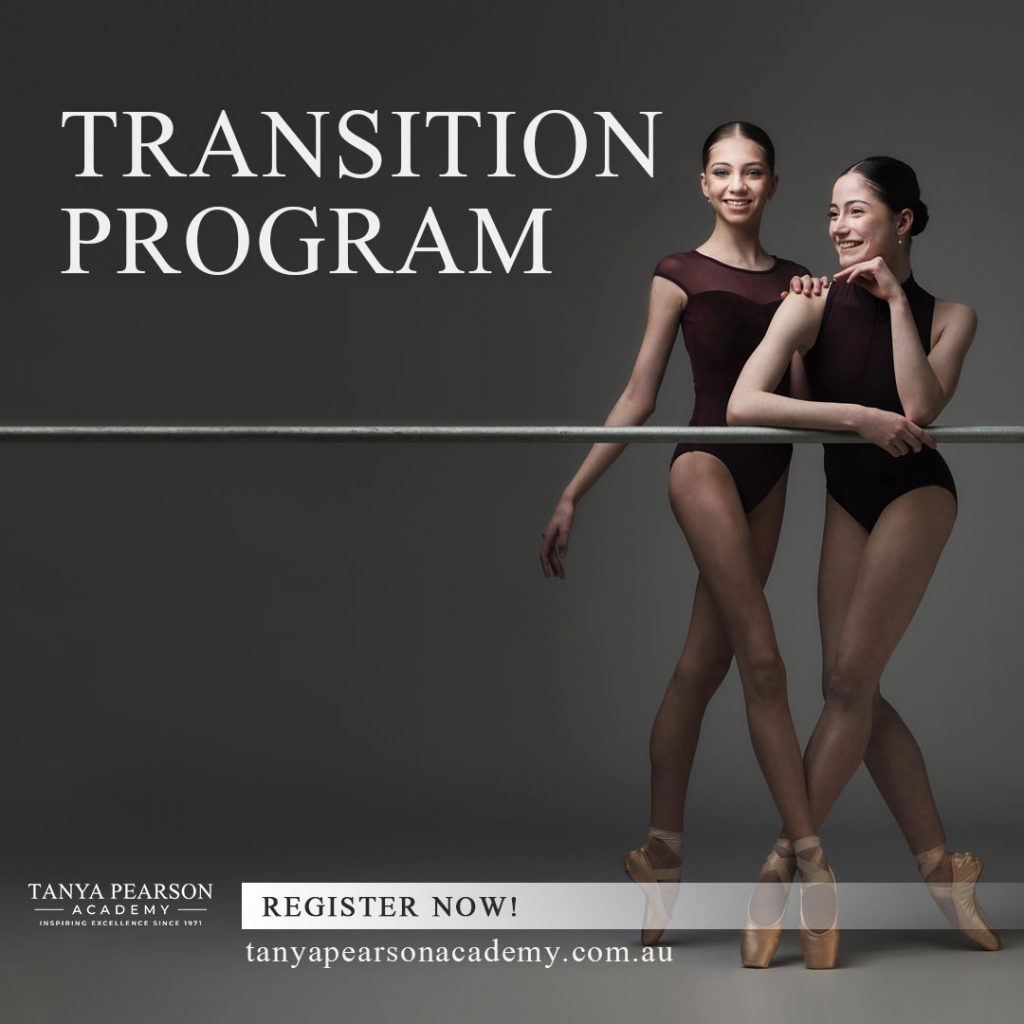 The Junior Transition Program (JTP)
Junior Transition Program is for students approximately 8-10 years (approximately Grades 3-5) who demonstrate a high level of skill and facility for classical ballet.  This class is designed as an extension program to ensure these students are supported in reaching their maximum potential.
Students may be invited into the JTP by the Directors at any time throughout the year. Only current students of the Tanya Pearson Academy are invited into the Junior Transition Program.
Entrance into the Intermediate Transition Program is not guaranteed and all JTP students will be reviewed for progression into this level based on their progress and suitability to the demands of the program.
The Intermediate & Intermediate Foundation Transition Program (ITP & ITFP)
The Intermediate Foundation & Intermediate Transition Programs are for TPA and guest students approximately 10-13 years who demonstrate a high level of skill and potential in classical ballet.  The course provides accelerated ballet training to enable these students to reach their full potential, laying the foundations for the Senior Transition Program and potential entrance into our TPA Full Time Program.
Upon completion of the two Intermediate streams (depending on age and development), students may be invited to join the Senior Transition Program or recommended to audition for the TPA Full Time training. Entrance into the Senior Transition Program or TPA Full Time program is not guaranteed and all ITP students are required to audition.
The Senior Transition Program (STP)
This 1 to 2-year program is designed for advanced level students who demonstrate the potential skills and attributes for a potential career in classical (or in some cases neo classical/contemporary dance).  This course is designed to expose young dancers to the rigours of full-time training whilst being sensitive to the students age, growing bodies as well as the importance of maintaining their regular academic studies.
The Senior Transition Program is designed as a full year program, however students may be required to attend 2 years of the Transition program before being eligible to audition for the Full Time Course. Acceptance into the TPA Full Time Program is not guaranteed and is by audition only.