FULL TIME ACADEMY AUDITIONING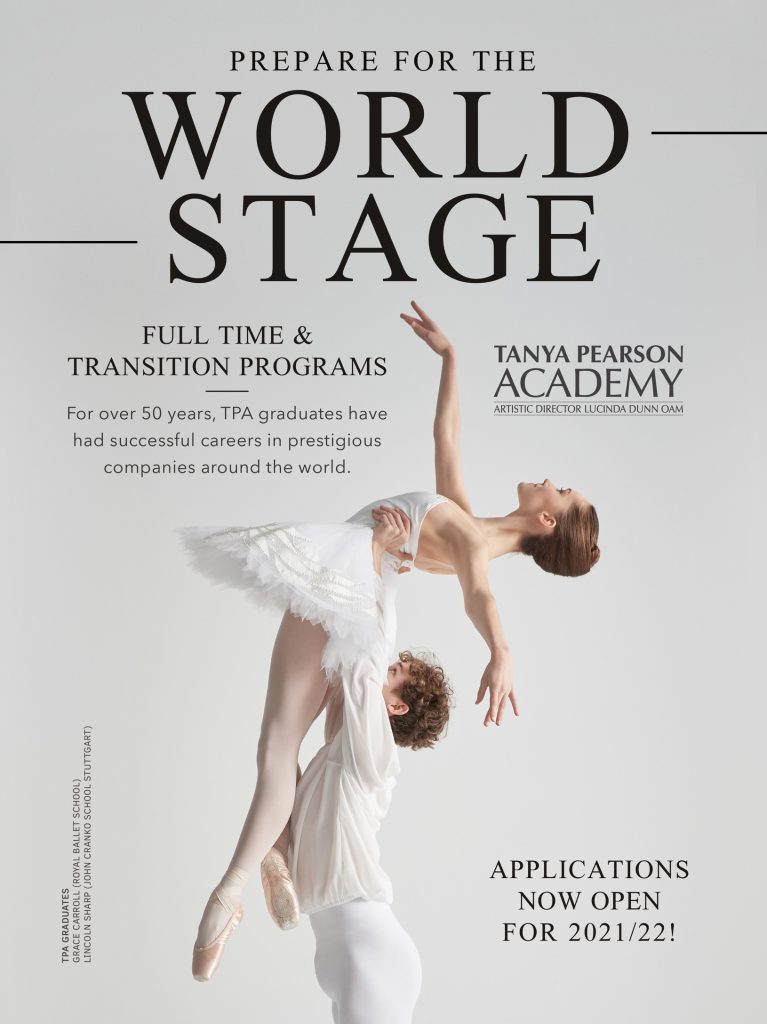 Recent graduates of the Full Time program have all been offered places and scholarships to the world's leading international selective ballet academies.
Recent Full-time student achievements include:
2 Prix de Lausanne Semi Finalists 2021
1 Prix de Lausanne Finalist and 2 Semi Finalists 2020
2 Solo Seal recipients 2017
2 Solo Seal Recipients 2018
2 Solo Seal Recipients 2019
Finalist and 3rd Place Winner at the 2018 Beijing International Ballet Competition
2018 Prix de Lausanne Semi Finalist
Winner of the BBM Youth Support Award 2019, 2018, 2017 & 2016
YAGP New York 2019 Winner Overall Senior Woman's Section
6 YAGP NY Finalists 2020
4 YAGP NY Finalists 2019
1 YAGP NY Finalists 2018
2 YAGP NY Finalists 2017
2 Solo Seal recipients 2017
5 Finalists selected for the 2017 YAGP New York Finals
Finalist and Runner Up in the 2017 AHA Awards NZ
Winner of the 2017 AICD Houston Ballet Scholarship
4 Semi Finalists and 3 Finalists in the 2017 Sydney Eisteddfod Senior Classical Ballet Scholarship
Winner of the 2017 Sydney Eisteddfod Robert & Elizabeth Albert Ballet Scholarship
Runner up Sydney Ballet Scholarship 2018
2016 Genee GOLD Medallist
Graduates were successfully offered places with:
The Australian Ballet Company
The Australian Ballet School
West Australian Ballet Company
Sydney Dance Company
Paris Opera Ballet School
Ballett Akademie Munich
English National Ballet School
European School of Ballet
Rambert School
Hamburg Ballet Academy
Vaganova Ballet Academy
John Cranko School Stuttgart
Palucca Schule Dresden
Royal Conservatoire of The Hague
San Francisco Ballet Company
Joffrey Ballet School Chicago
The Dutch National Ballet Academy
The Royal Conservatoire of Scotland
Iwanson International School of Contemporary Dance
The Royal Ballet of Flanders
Houston Ballet Academy
Zurich Dance Academy
Victorian State Ballet
Royal Ballet School
Arts Umbrella
Royal Winnipeg Ballet School
LOCAL AND OVERSEAS AFFILIATIONS
TPA is proud of its strong affiliations with The Australian Ballet, The Royal New Zealand Ballet, The Queensland Ballet and the West Australian Ballet Companies.
In addition, the Academy maintains close relationships with international selective schools and companies, fostering opportunities for internships and placements.
Audition Dates for 2021/22 Full Time Courses
Auditions for the 2021/22 Full Time Courses will take place on the following dates:
Sydney

Monday 27 Sep to Friday 1 October 2021,

October Workshop (Audition Day on Friday 1 October)
ONLINE

 

Video Audition Applications extended until November 30th
 
 
Students who are unable to attend the above audition dates may request a private audition or audition by video link. Students auditioning by online application may still be required to attend the Academy to be assessed in person before final selection. Please email admin@tanyapearsonacademy.com.au if you are unable to attend the above audition dates.
Students are assessed by Lucinda Dunn (Artistic Director), Xanthe Geeves (Creative Director) and Gregor Thieler (Executive Director).
Students are assessed on a number of criteria including physicality, artistry, musicality, turnout and use of it, coordination, dynamics, versatility and receptiveness. We are not looking for finished products and a student's potential and suitability for our program (and schools and companies that we feed into) is a major factor in our selections.
Audition Photos Required
1x Head Shot
1x Tendu a Terre a La Seconde
1x 4th Position Croise (En Pointe for girls),
1x Arabesque En L'air (side view).
DVD / Video Link Audition Application
The following footage is required if auditioning by DVD:
Ballet Barre comprising of plie, tendu, jetés , fondu, adage, grand battements
Centre – tendu, pirouettes, adage, allegros
Pointe work
Classical solo
Contemporary solo or contemporary phrase
20 minutes maximum content. DVD submission accepted by Youtube/Vimeo link or DVD.
How to register for the Audition
If interested in registering for our 2021/22 Full Time Auditions please click below.
Please review our Full Time Q&A for further information about our program. If you still have questions regarding our full time programs please contact admin@tanyapearsonacademy.com.au or call (02) 9439 4424.
TO REGISTER FOR FULL TIME AUDITIONS
"I feel inspired by the students and have a deep desire to pass on all I know to them so they can be their best every day and achieve their dreams."
Lucinda Dunn OAM Artistic Director
MORE QUESTIONS?
Please feel free to contact us to facilitate a personal discussion with you directly.
SIGN UP TO OUR NEWSLETTER
Stay up to date with the latest Tanya Pearson Academy, news, events and offers